Introductory Course
The Five Week Introductory Course is a rare opportunity to experience Egyptian Elementals Dance and Movement© - at foundation level with other beginner students.
The class will commence with a warm-up incorporating a variety of training exercises. Each week a new concept will be introduced whilst we work on the two elemental dance movement principles. The class will conclude with stretches.
At introductory level the focus is on developing an understanding of your body and acquiring the skills and knowledge with which to improve posture, strength and flexibility.
Incorporated into the classes and workshops is The Meditation In Movement - Dance The Difference© training program, which has been created specifically to assist in the development of the tenets integral to the form.
A Typical Beginners Class May Include
Warm-up and cool down incorporating stretching/strengthening exercises
Bodywork incorporating the Physical Fluidity Training Program©
Meditation In Movement - Dance The Difference!© principles
Posture and alignment check
Breathing techniques for integration of mind, body and breath
The concepts of Egyptian dance movement and expression
Defining authenticity and artistry
Historical/musical/cultural knowledge on dance and appropriate costuming
Challenge, fun, rhythm, music and fitness training!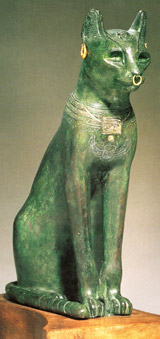 Bronze statue - Bastet 7-12th century BC
What to bring… Yoga mat or towel, water, and attire appropriate for yoga.
You may wish to view 'Testimonials'. If you have any further questions please contact us.
Email [email protected] to be notified of the next introductory course.
I look forward to meeting you!